Complete new installation of the returnable-glass filling line: Klosterbrauerei Andechs relies on BMS technology
With a production capacity of up to 24,000 bottles per hour and a growing demand Klosterbrauerei Andechs can still guarantee its established quality standard.
Old established production halls with natural limits, like the ones at Klosterbrauerei Andechs, pose a problem when there is an increase in demand. In this respect, it is not only important to increase efficiency and integrate state-of-the-art technology, there are also high quality standards that have to be met. For this reason, Klosterbrauerei Andechs decided to rely on the expertise of BMS Maschinenfabrik for the new installation of their returnable-glass filling line.
Our task was to implement a high capacity output in the returnable-glass line and at the same time minimise the use of resources. Parallel to this, we were to take into account the high proportion of foreign bottles in the empties sorting (30 per cent). For this purpose, an additional storing capacity for up to 1,500 pallets was created. In addition, certain older components were to be technically updated, integrated in the new plant and made operable via a standard control interface.
Here you can find out more about the largest project of Klosterbrauerei Andechs which chose BMS Maschinenfabrik as its central service provider.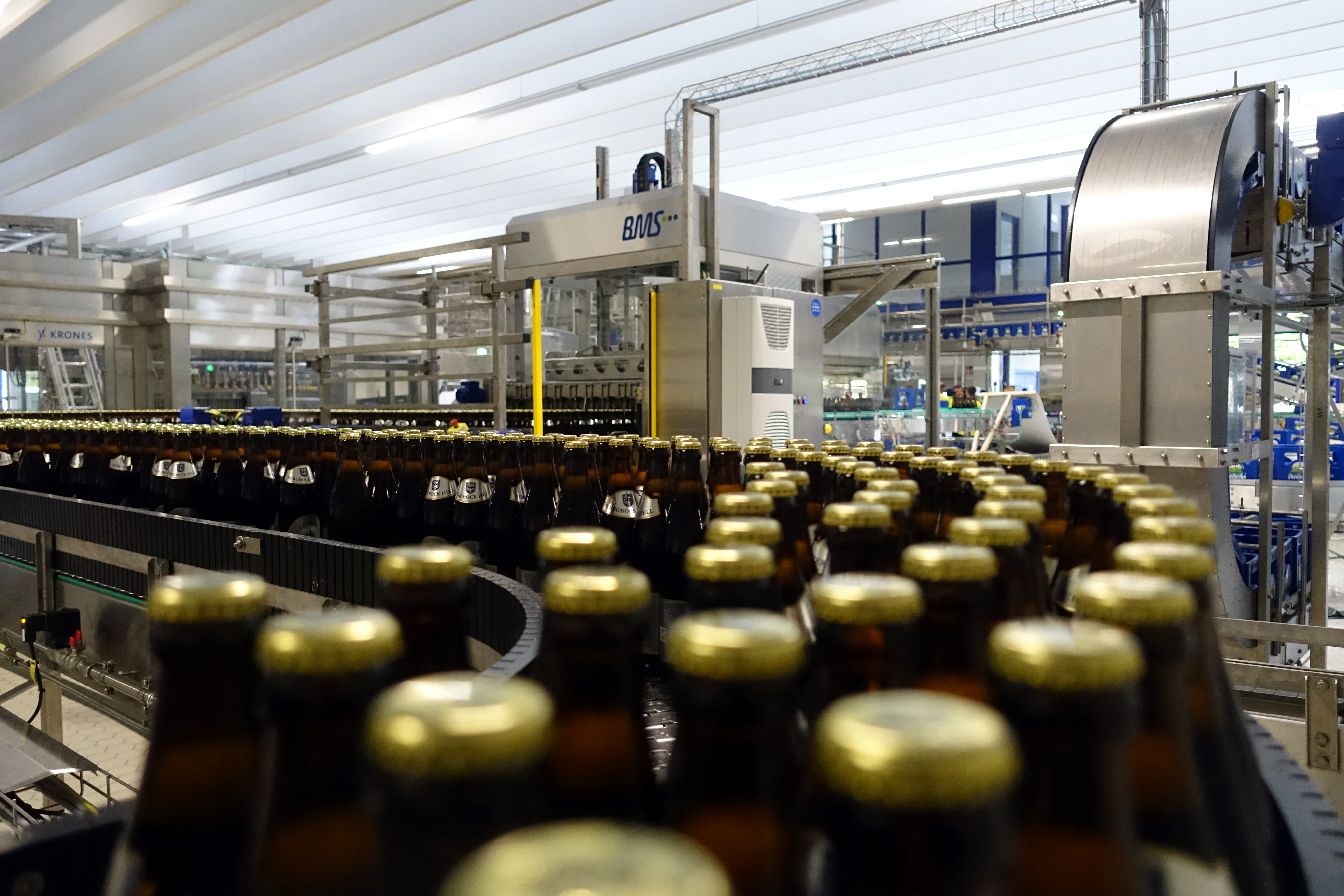 Up to 24,000 bottles of Andechs beer specialities can be filled per hour on the new returnable line
24,000 bottles per hour: BMS Maschinenfabrik implements new returnable-glass filling line at Klosterbrauerei Andechs
Growing sales demand a rethink, especially with regard to in-house logistics. Klosterbrauerei Andechs became aware of this when it had to adapt its bottling operations to the new situation. The brewery, which is also considered Germany's largest monastery brewery, is well known among other things for its bock beers, which are brewed all year round. There is a strong domestic and international demand for the brewery's classic beers such as the Andechser Doppelbock Dunkel (7.1 % ABV, 18.5 % original gravity) as well as specialty beers such as the Andechser Bergbock Hell or Andechser Weissbier Dunkel.
Why the high investment? Because the old bottling plants from 1925 and 1958, in operation for many decades, had been pushed to their capacity limits for some time. The shortage of space, which became more and more evident over this period, has been an issue since the 1970s. This is why Klosterbrauerei Andechs decided to follow up the refurbishment of the bottling plant carried out in 1990/91 with the installation of a new bottling hall that was then officially launched on 7 October 2019.
Overview of key project details:
• Installation of a new returnable-glass line with a capacity of up to 24,000 bottles per hour
• Simultaneous reduction of the required resources
• Establishment of a separate storage capacity for approx. 1,500 empties pallets
• Total investment volume: 12 million EUR
Brief portrait of Klosterbrauerei Andechs: a tradition that dates back to 1455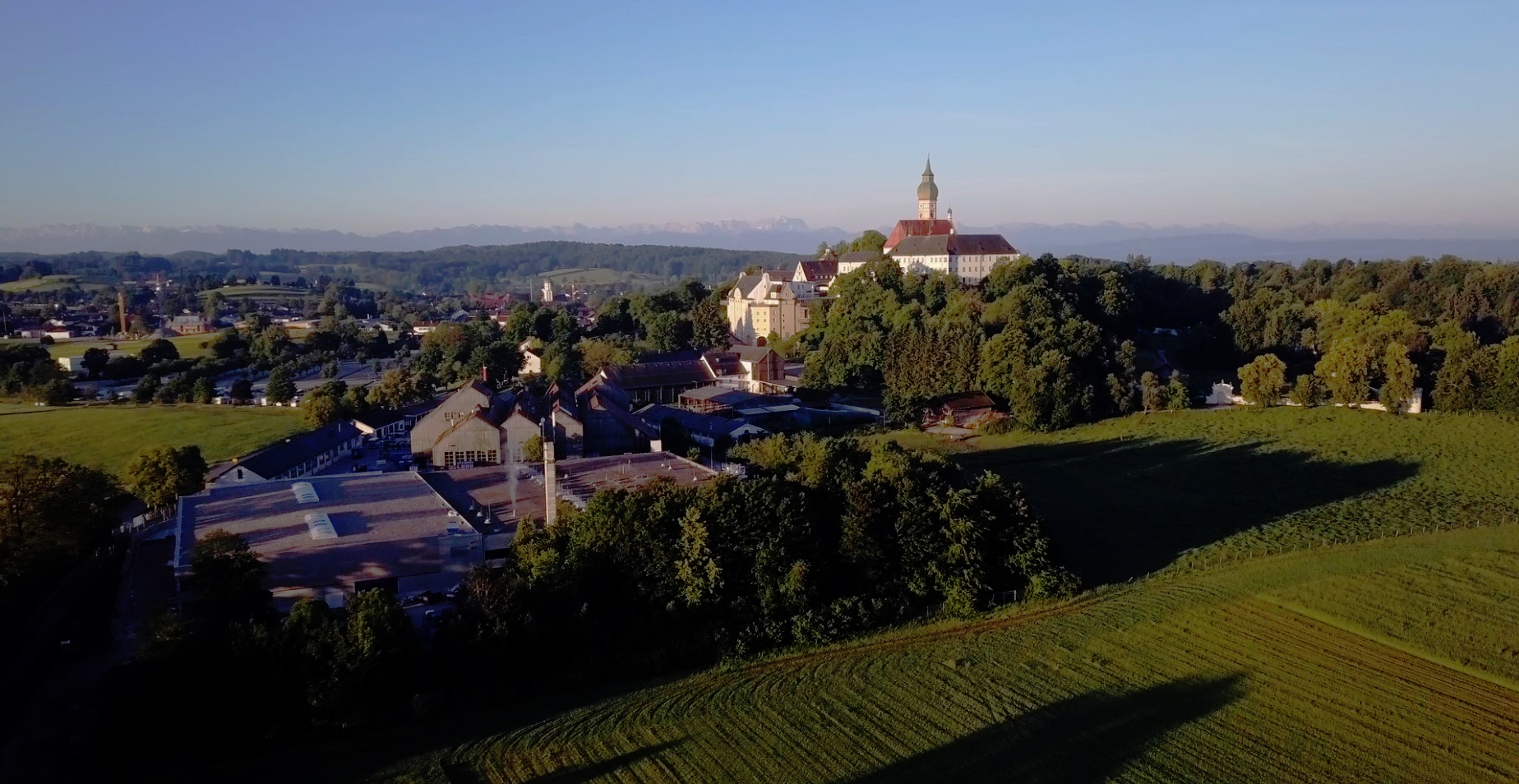 Kloster Andechs, founded in 1455, uphill from the Bavarian Ammersee
A glimpse into the history shows how eventful and anecdotally peppered this story is and how it helped establish the special reputation of Klosterbrauerei Andechs. It is clear to see that it was mostly monks who had time to spare and who devoted themselves to the craft of brewing beer. Due to their advanced level of education they were the ones to first record experiences in writing and in this way they were able to optimise the brewing processes. Proof of this can be found in the year 1455 when the monastery in Andechs was founded under the stewardship of seven Benedictine monks from Tegernsee.
When Klosterbrauerei Andechs was bequeathed to St. Boniface Abbey in Munich in 1850, a new page in the history of the longstanding brewing tradition began. Here a brief outline of the major developments in chronological order:
• 1850: Klosterbrauerei Andechs is bequeathed to St. Boniface Abbey, Munich
• 1871: Conversion of the brewery to the use of steam
• 1893/94: New barrel barn, storage area and brewhouse
• 1906: Commissioning of the malt house (closed in 1968)
• 1925/1958: Installation of new bottling facilities
• 1974: Commissioning of a new bottling hall
• 1984: Launch of new brewhouse, fermentation and storage cellar
• 1990/91: Refurbishment of the bottling plant
• 2006: Modernisation of the production units including the brewhouse
In short: The challenges in connection with the prevailing conditions at the "Holy Hill" in Andechs are not new. The situation was even more difficult due to Klosterbrauerei Andechs attaching great importance to still boiling beer in a partial mashing process and to using a two-tank fermentation method. The advantage of this is that in spite of an increase in demand, the quality level is maintained and beers can also be stored cold for longer periods.
Klosterbrauerei Andechs in 2020: Specification of the new returnable-glass filling line from BMS Maschinenfabrik
Traditional, authentic breweries, like the one in Andechs, frequently have to face up to the consequences of their success. Dimensions in the production as well as local conditions are often limited, leading to possible limitations in the bottling process. Already at the beginning of the 2000s the annual output of Klosterbrauerei Andechs was constantly above 100,000 hl. The brewing and bottling processes are still carried out in Andechs today. BMS Maschinenfabrik is proud to have been involved in the restructuring process at an early stage – also because the key objective of the work was to guarantee the quality of the many different beer specialties.
Alexander Reiss, plant manager at Klosterbrauerei Andechs, explains: "The filling plant that dates back to the 1990s had reached the end of its life. It had to be replaced. At the same time, we wanted to create new storage capacities. We therefore planned an investment in both an expansion and a replacement."
Environmental compatibility of the plant was another key point, especially with regard to the overall energy consumption. Standards way above statutory requirements were to be met. An outline of the whole process is as follows:
• Klosterbrauerei Andechs defines its project goals (maintaining the quality, EMAS-certified environmental management, energy efficiency, employee protection, compliance with high hygiene standards, among others)
• BMS Maschinenfabrik is commissioned with the development of an overall layout for the reusable-glass line. At the same time, the implementation of conveyor modules in the wet and dry area has to be carried out
The main BMS products: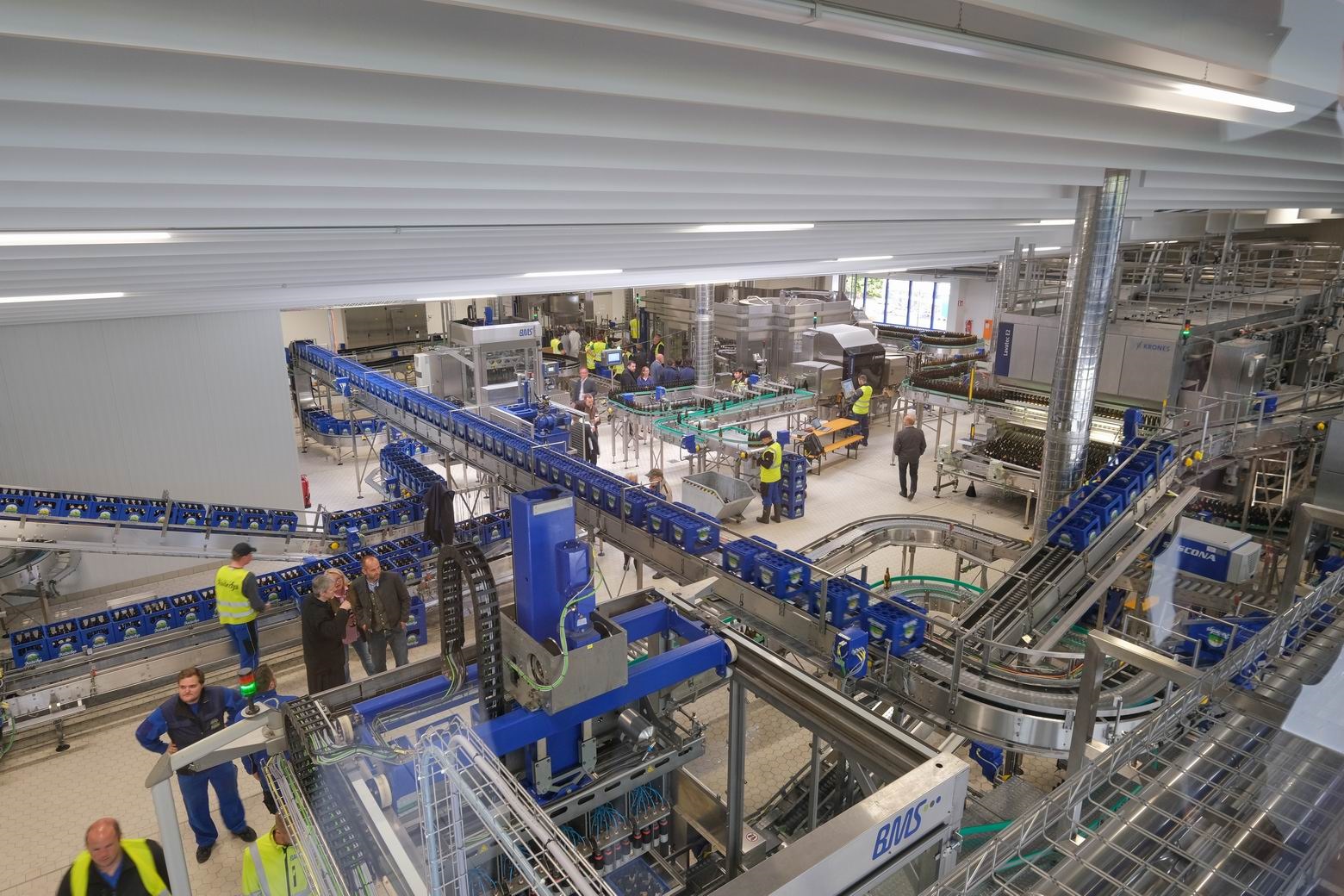 Special insulation materials reduce the noise level in the new filling plant in the long term.
BMS Maschinenfabrik ensures efficiency despite a high level of mixing
Particular attention was paid to individual aspects of this overall project - which also involved the participation of Krones (wet part components), Syscona (control units) and Josef Hebel (construction), among others. Part of our task was to account for the high level of mixing of almost 30 per cent when interconnecting the system components. One reason for the empties at Klosterbrauerei Andechs featuring such high shares of foreign bottles is the national distribution. OK bottles are reliably sorted, conveyed to a separate bottle table where they are then conveyed to the bottle washer.
In simple words: The packer Unipack 2.0 was fitted for the first time with four heads, at the same time, an empties recognition system for foreign bottles (leading to manual sorting) was implemented upstream of the process: The sorting unpacker already delivered in 2009 as part of the old system was integrated for this purpose.
Further significant details concerning the cooperation between BMS Maschinenfabrik and Klosterbrauerei Andechs:
• General overhaul of the sorting packer Type 103, including control-side technology adaptation by BMS as well as replacement of the drive lifting axes
• Complete modification of the electrical system
• Implementation of an integrated control concept
• General overhaul and IE4-drive upgrade of the conveyors, also in combination with decentralised frequency converters
Published in: Brauwelt / June 2020