BMS machines in operation: new sorting plant at Gerolsteiner
BMS Maschinenfabrik helps Gerolsteiner to optimise its management of the ever-increasing share of foreign packs.
Gerolsteiner Brunnen is one of the undisputed market leaders with an annual output of more than 8 million hectolitres. The company is also the world's number one in the sparkling mineral water segment. The traditional handling of multi-use returnables and a simultaneous trend towards individually designed packs pose a particular challenge for bottle and crate sorting systems. BMS Maschinenfabrik was commissioned by Gerolsteiner to adapt the existing plant layout and to integrate a high performance sorting system in the dry part. With some 134 stock keeping units Gerolsteiner ranks as Germany's leading supplier of mineral water. At the same time, the amount of time and effort required for optimal handling of different types of bottles is increasing across the entire value-added chain. For example, unsorted samples of empties that cannot be handled manually are passed on by retailers. We were able to offer Gerolsteiner our advice and implement a powerful system with which a wide variety of pack types can now be sorted cost effectively, efficiently and with reduced susceptibility to errors. The core of the project is a combined system for filling and sorting. This report presents the key basic data and describes the process.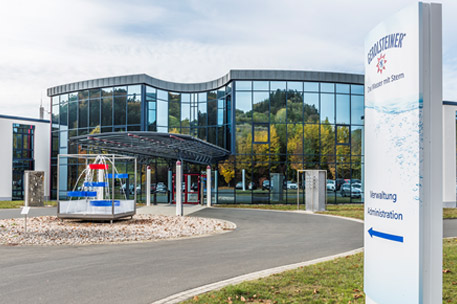 Almost 8 million hectolitres and approximately 134 stock keeping units at one location - Gerolsteiner is a German top performer.

BMS implements a high performance sorting plant for Gerolsteiner Brunnen – integrated in the new dry part
For anyone looking for superlatives in the German beverage producing sector, Gerolsteiner Mineralbrunnen is a definite must. The company, based in Germany's Volcanic Eifel region, clearly leads the field with its annual sales of almost 8 million hectolitres. This places very high demands on technology and logistics. An important aspect that is reflected in the ongoing modernisation and expansion of the production and sorting plants.
BMS Maschinenfabrik is proud to proactively support this German beverage champion. The key basic data of our cooperation are as follows:
• Planning and integration of a state-of-the-art filling line for glass returnables (commissioned: 2018)
• Integration of a fully automatic sorting plant in the dry part
• Share of returnables: 70 per cent
• Proportion of glass to PET: 70:30
The main pack forms:
• 1.0 litre individual glass bottle in 6-bottle crate (multi-use)
• 2-bottle crate 1.0 litre bottle (PET)
• 6-bottle crate with 1.0 or 1.5 litre bottle (PET)
• 12-bottle crate with 0.7 litre glass bottle (white) or 0.75 litre glass bottle (green) as GDB combination
Gerolsteiner Mineralbrunnen in figures: 7.8 million hectolitres and 134 stock keeping units per annum – tendency rising!
With the mineral water brand that bears its name, Gerolsteiner Brunnen GmbH & Co. KG is supplier of the best-selling product in this segment. Founded in Gerolstein in 1888 and with a workforce of over 800 people the company ranks as the world market leader in the sparkling mineral water sector. It also ranks at the top of the league of Germany's largest mineral water exporters.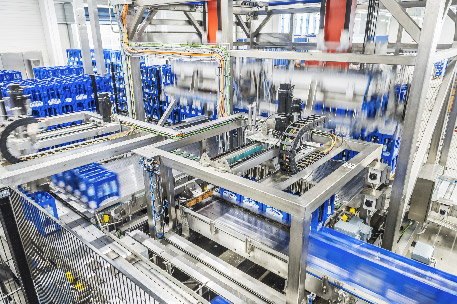 Bottlenecks of the sorting system were designed for 60,000 bottles per hour ensuring that, in spite of the high level of complexity, enough empties are supplied.

The most important products in the Gerolsteiner assortment include:
• Gerolsteiner Sparkling
• Gerolsteiner Medium
• Gerolsteiner Natural (still)
• Gerolsteiner Health Water
• Health Water St. Gero
• Soft drinks based on mineral water
However: the general trend towards individual bottle shapes, pack types and sizes is also posing challenges for key players like Gerolsteiner. At the same time, the effort required due to the steady increase in the share of foreign glass also opens up options for optimisation. With BMS as Gerolsteiner's partner the focus was therefore on higher plant efficiency in the filling line. The main prerequisite for this is the supply of unmixed empties, and this can be achieved by upstream sorting.
Technical aspects: Gerolsteiner a company that operates with traditional multi-use returnables
The holistic marketing strategy of this world market leader is one of the reasons for its sustained success. It is the mission of the company to have the right product solution for every situation. This is underscored by an above-average growth in the mineral-water-based soft drinks sector. Also the overall market is growing appreciably. This means that Gerolsteiner, as a traditional company operating with returnables (70 per cent) has to adopt special measures to ensure that all processes run efficiently. Regardless whether it's refillable PET in a 12-bottle crate of 1.0 litre bottles, the classic GDB combinations of white 0.7 litre glass bottles or green 0.75 litre glass bottles (both in 12-bottle crates).
Ulrich Rust, managing director for technology and logistics at Gerolsteiner and responsible for optimised handling, emphasises: "At our site we produce, fill, pack and ship approximately 134 stock keeping units with an annual volume or around 7.8 million hectolitres – tendency rising. We simply have to keep investing in technology and capacity."

Upstream of the inspection station the crates are realigned contact-free from short-side leading to long-side leadingFor a better understanding of this situation, here an overview of the key data:
• Completion of a new filling line for non-returnable packs (2017/2018)
• Expansion of a warehouse facility with 4,500 m² floor space
• Integration of a bottling hall with 8,000 m² floor space including a combined bottling and sorting plant for glass returnables
• A total of 13 filling lines directly on-site
A relevant issue: As no general contractor had been commissioned, Gerolsteiner decided to select the respective components with the highest efficiency. For the area of the dry part and the sorting plant BMS Maschinenfabrik was awarded the contract for the first time. The project management was particularly convinced by the robustness of the machines as well as the accessibility to the plants – which we were already able to demonstrate at the Bitburg sister company.
Mixed pallets of empties from retailers: the main obstacle for optimised handling
It was not just the plant for GDB packs, which dated back to 1991 and would inevitably have given rise to capacity-related bottlenecks, that was under review. Most importantly the 1-litre individual glass bottle in the 6-bottle crate, introduced almost ten years ago, had put significant pressure on the filling and sorting system. It was therefore necessary to realise a combined "investment in expansion and replacement", Ulrich Rust (Gerolsteiner) explains.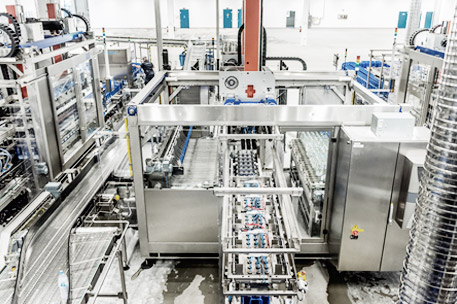 With its two individually displaceable gripper heads the sorting loader and unloader loads and unloads six bays.

Problems seen by Gerolsteiner included:
• The processing of many different glass returnables using the same plant
• GDB packs with various combinations of green and white bottles in brown or green crates, i.e. separating the crates and "picking out" additional faulty bottles
• 1-litre returnable bottle in the 6-bottle crate also insertable in crates of the 1.5-litre PET bottle as well as for glass bottles (also stackable with other modular crates, even if there is no incorrect allocation of the bottle types due to different compartment diameters)
• Very high level of manual work
By choosing a mechanical sorting plant for the dry part Gerolsteiner could - thanks to BMS - optimally integrate it in the new line of glass returnables. To ensure a sufficient supply of empties a very high capacity was selected. Harald Jakoby, head of technical planning at Gerolsteiner, adds: "Today we have a filling capacity of 38,000 bottles per hour with the GDB bottle and 21,000 bottles with the 1-litre bottle. However, the depalletising area and the unpackers are, for instance, designed for 60,000 bottles per hour. We therefore always have enough reserve capacity to supply the required amount of unmixed empties."
BMS Maschinenfabrik chosen by Gerolsteiner as individual machine provider
As Gerolsteiner has a central technical planning department for controlling all processes, the decision went in favour of BMS as service provider. The customer attached particular importance to the possibility to change displacement distances independently or intervene in processes, after receiving initial training. In close cooperation with the customer we optimised the system layout making it possible to omit the necessity of a second machine as packer, for instance.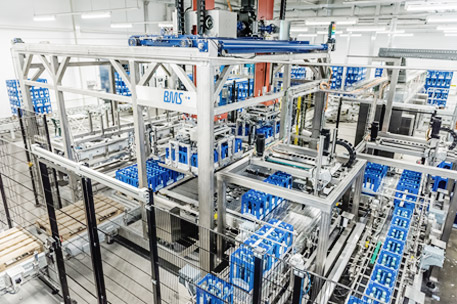 The main BMS components that helped make the new Gerolsteiner sorting plant a success:
• Delivery and installation of a semi-automatic new glass lift-off system
• Duplex loader of the type "Unipal"
• Sorting loader and unloader consisting of two individually displaceable gripper heads and six bays
• Three portal-type packers of the type "Unipack 103"
• "Butterfly-type" packer (portal-type packer with two grouping tables on the left and right for unmixed insertion of two bottle types)
The overall system was commissioned in the first quarter of 2018, first in the area for filling and sorting of the 1-litre individual glass pack. We are proud to have been able to support Gerolsteiner at a decisive point in this project.
Want to see the new sorting plant live in action? Click here for the video: sorting plant Gerolsteiner
Published in: Getränkeindustrie / June 2019