Customised container sweep-off depalletiser for the brewery Dinkelacker-Schwaben Bräu – a report from BMS Maschinenfabrik
We have developed a modular combination system that also enables automated loading, unloading or combined loading and unloading of glass bottles on a small area.
The automated, secure palletising of different types of containers presents significant challenges to companies like Dinkelacker-Schwaben Bräu GmbH & Co. KG. The typical basic modules such as the BMS new-glass sweep-off depalletiser with pallet lift were not suitable due to the restricted space conditions. Working In close cooperation, a customised, tailor-made product has been developed that also permits automated handling of the export glass containers on a small area.
The task was made even more difficult by the fact that the brewery Dinkelacker-Schwaben Bräu, founded in Stuttgart in 1888, has always brewed locally on the spot. Due to the rocky hillside location the production areas have had to be spread over three levels. At BMS we therefore focused our attention on a space-saving, multifunctional solution that uses our proven basic modules. Our prototype can be used as a pure loader and unloader, and as a combi-module with a throughput performance of up to 22,000 bottles per hour.
In the following we would like to describe the development of the project in greater detail, with all the challenges that had to be tackled. You will see from the project specifications just how difficult it was to balance precision and volume in this context. We hope you enjoy reading this report. If you have any questions please do not hesitate to contact us at BMS Maschinenfabrik.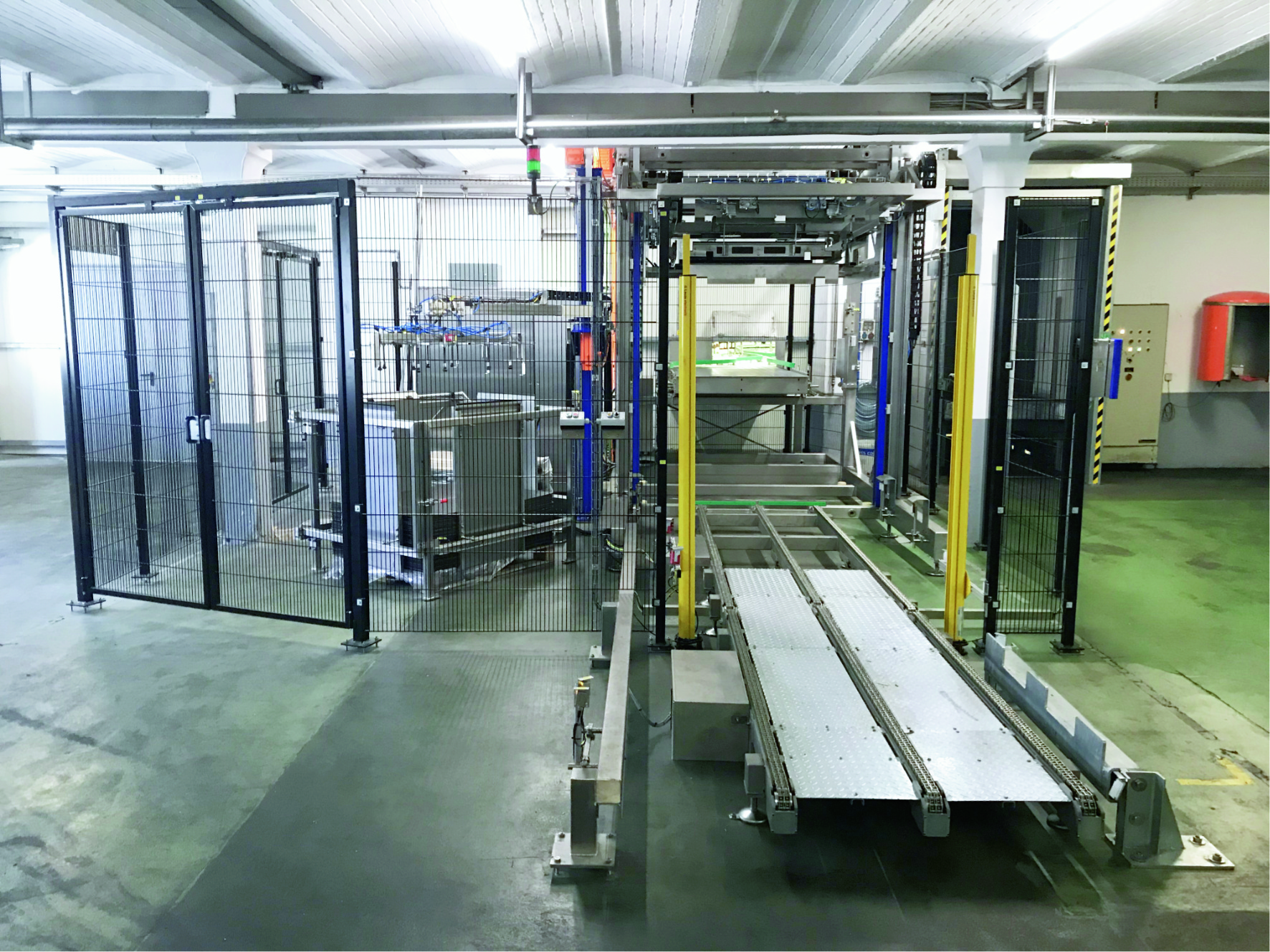 Clear instructions: The new sweep-off depalletiser had to be compact, have a discharge point at the height of the existing conveyors, be able to feed up to 30,000 0.5-liter bottles per hour and, last but not least, have an attractive price/performance ratio.
BMS Maschinenfabrik equips Dinkelacker-Schwaben Bräu with a new container sweep-off depalletiser

Palletising is an essential step in every brewery. Here it is important to achieve millimetre precision and a high throughput. The main challenge is to enable a fully automatic palletising that is individually adapted to the prevailing conditions. The Stuttgart-based brewery Dinkelacker-Schwaben Bräu GmbH & Co. KG has relied on the expertise of BMS Maschinenfabrik for its investment strategy.
The aim: planning and implementation of a customised new-glass sweep-off depalletiser which, thanks to its modular design, can be used as a loader and unloader or as a combined system. This makes it possible to minimise the high expenditure, particularly in the lower and medium performance range, and save costs.
Short portrait of Dinkelacker-Schwaben Bräu GmbH & Co. KG: a tradition since 1888
The history of the brewery - founded by Carl Dinkelacker in 1888 in Stuttgart – is deeply connected with this spot. Because beer has always been brewed here on the Tübinger Strasse. Takeovers of different competitors reinforced the brewery's commitment to combine quality and variety. Here is an overview of the most important changes:
• 1971: takeover of the Wulle brewery
• 1977: takeover of the Weißbierbrauerei Sanwald
• 1996: merger of Dinkelacker and Schwaben Bräu to Dinkelacker-Schwaben Bräu AG
• 2004: takeover of the brewery by InBev
• 2007: separation from the major shareholder InBev and since then continued brewing activity as an independent family-owned company
As you can see from the history of Dinkelacker-Schwaben Bräu GmbH & Co. KG, brewing has taken place at one and the same location for more than 132 years. Due to the expansion of the city, however, the Tübinger Strasse is no longer situated on the outskirts but is now part of Stuttgart's inner city. In addition, the sloping hillside location and dense development clearly limit any possible expansion, and the division of production units is therefore difficult: the brewhouse and clip-lock bottle filling are on the ground floor, palletising is on the 1st floor and loading and unloading of trucks takes place on the 2nd floor.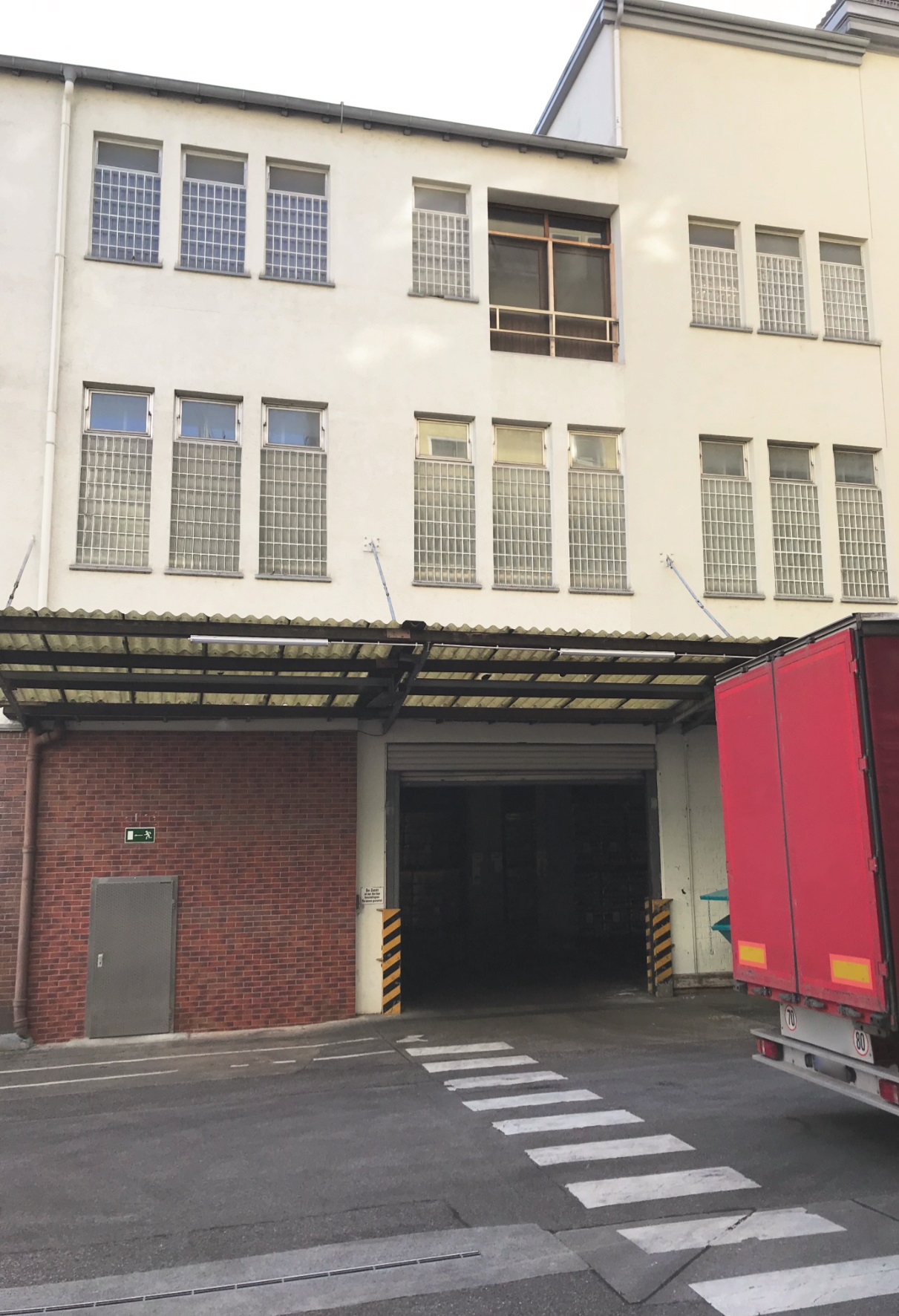 The only passable way into the building was through a 2.75 metre high and 2.40 metre wide opening at a height of no less than ten metres.
Decision of Dinkelacker-Schwaben Bräu: Integration of a new-glass sweep-off depalletiser for export sales
Due to these spatial conditions, up until now an automated mechanical solution had been considered uneconomical. To give you a better impression of this situation here are the dimensions of the only available access.
• Access route: 2.75 m in height x 2.40 m in width (insertion at a height of 10 m)
• Maximum ceiling height at place of installation: 3,400 mm
Ralph Barnstein, managing director for Technology and Logistics emphasises: "For our export sales we use a lot of new glass in returnable crates that are filled and later repacked. The infeed of this new glass necessitates a great deal of manual work. As yet, we have not been able to find a mechanical solution for this task with an attractive price-performance ratio."
Until now, that is. Because in cooperation with BMS Maschinenfabrik (planning order: January 2019) we have now managed to integrate a modular prototype for exactly this purpose. The main challenges were as follows:
• Classic BMS new-glass sweep-off depalletiser with pallet lift was not possible due to the discharge point and the overall height (machine)
• - Solution: Individual design of the basic module based on a compact structure, including among other things the discharge point at the level of the existing conveyors (1,250 mm) as well as 0.5 ltr. bottle infeed of up to 30,000 units per hour
After a market evaluation Dinkelacker-Schwaben Bräu decided in favour of BMS expertise - already well established from other joint projects. Ralph Barnstein, managing director for Technology comments: "We've already been down some rocky roads together. So we know what we are able to accomplish together."
Technical components of the new BMS glass sweep-off depalletiser at Dinkelacker-Schwaben Bräu
Already at the beginning of the new millennium BMS Maschinenfabrik was able to secure a number of challenging projects. In 2003 we delivered packers and unpackers as well as components for the pack and container conveyor system of the old clip-lock bottle plant. In 2009 a multi-tiered complete glass line was added on. In 2014 this was followed by the development of a multifunctional repacking module with which Dinkelacker-Schwaben Bräu can reach a particularly high delivery capacity for its diversified product portfolio.
However, we do not want to deprive you of the essential details of the individually adapted sweep-off depalletiser with height adjustment:
• Kickoff: January 2019 (commissioning of BMS)
• Planning and development (mechanics, electrical system, software development)
• Delivery and integration of the module on 24 June 2019 (including two machine modules that had to be lifted into the building by crane and the onsite connection of the modules)
• Commencement of operation: 08 July 2019
• Dimensions of the BMS prototype: 2,000 mm width x 3,500 mm length x 3,400 height (sweep-off depalletiser incl. control cabinet)
Key features of the BMS solution:
• Newly developed telescopic drive (for retraction/extension from the centre position)
• Palletising capacity (loading and unloading) of 40,000 bottles per hour, combined loading and unloading of up to 20,000 bottles per hour
• Height adjustment (stepless adjustment of the bottle discharge to the existing conveyor level based on a vertical movement (servo-operated lift mechanism)
• Automated handling of inverted trays, layer pads and empty pallets
• Universal aptitude for further fields of application, including Craft Brewers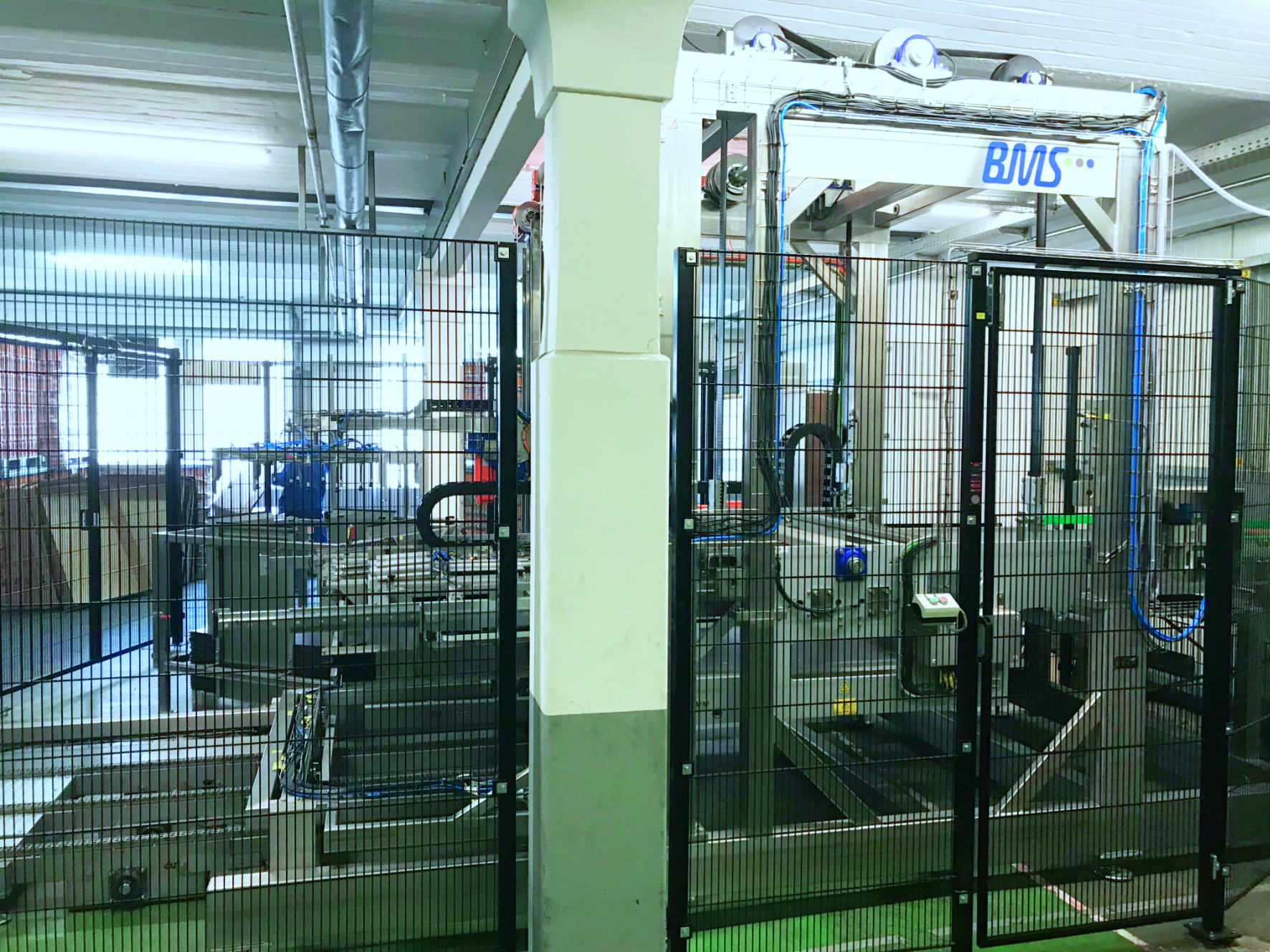 Three-step process:
1. Automated displacement of sweep-off plate and head to the required height
2. Fixing of the bottle layer by the sweep-off head, transfer of the sweep-off plate using the telescope and vertical displacement to the discharge table
3. Sweep-off of the container layer from the sweep-off plate to the discharge table and conveying of the containers to the plant
In short: the fully automated adjustment of the sweep-off plate and gripper head to the respective height level of the bottle layer means that, as opposed to the sweep-off depalletiser with pallet lift, operation is possible with the discharge table at a low level. The subsequently reduced hourly output is almost fully compensated by the machine workflows running in parallel. Due the telescopic design the individual machine modules do not have to operate sequentially one after the other, but can perform their tasks almost in parallel.
Want to see the new sweep-off depalletiser live in action? Click here for the video: sweep-off depalletiser Dinkelacker
Published in: Brauindustrie / May 2020