The Bavarian State Brewery Weihenstephan relies on repacking plant from BMS
As general contractor, BMS Maschinenfabrik provides the basis for export logistics at the world's oldest brewery.
The export of standard packs to international markets requires substantial planning and logistics. The Bavarian State Brewery Weihenstephan did not have to deal with this issue for some time as the task was carried out by a service company in the Greater Munich area. However, with the increasing sales success of Weihenstephan beer, the company needed to install its own on-site repacking plant.
BMS Maschinenfabrik was commissioned as general contractor with the planning, design and turn-key installation. In doing so, we had to also observe the specific spatial restrictions in order to reach the desired capacity. Thanks to our many years of expertise we were able to perfectly coordinate existing, non-BMS and BMS machines. The space-saving, modular design of our repackers once again proved its worth.
The following report gives an insight into key aspects of the project. With our help, the Bavarian State Brewery Weihenstephan has been able to optimise logistic processes in the preparation for export shipping. The plant manages different types of bottles and packs, features freely programmable cycle times and packing cams and can be retrofitted at any time. BMS and Weihenstephan – a very impressive team!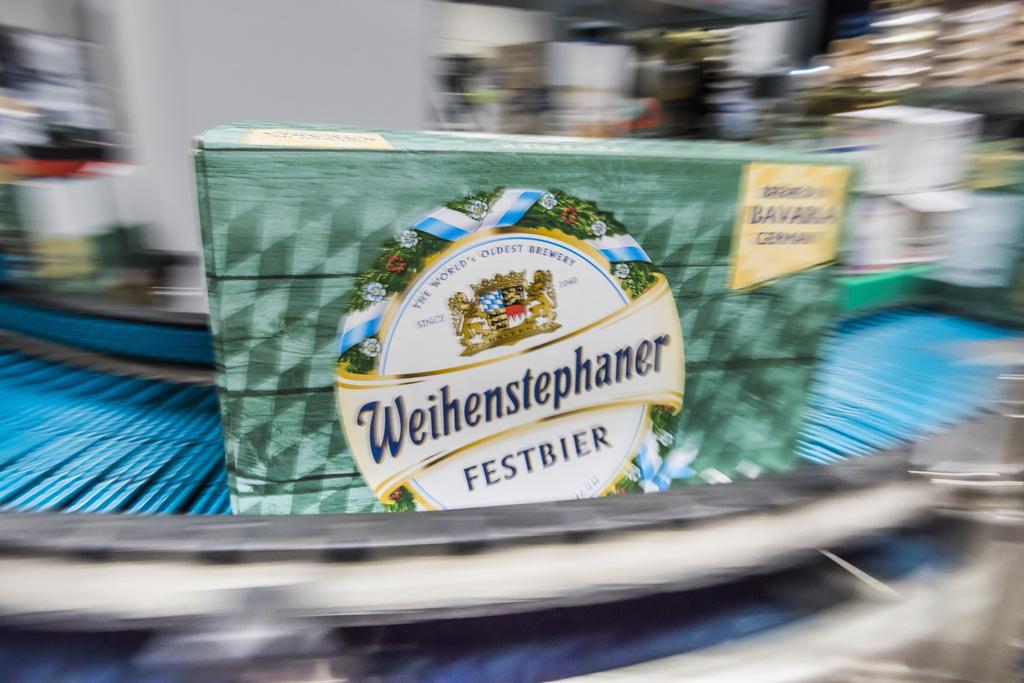 "Overseas" means repacking from the standard pack into the shipping package. At Weihenstephan these are cartons with individual bottles or baskets.
New at Weihenstephan: automatic repacking plant from BMS in the world's oldest brewery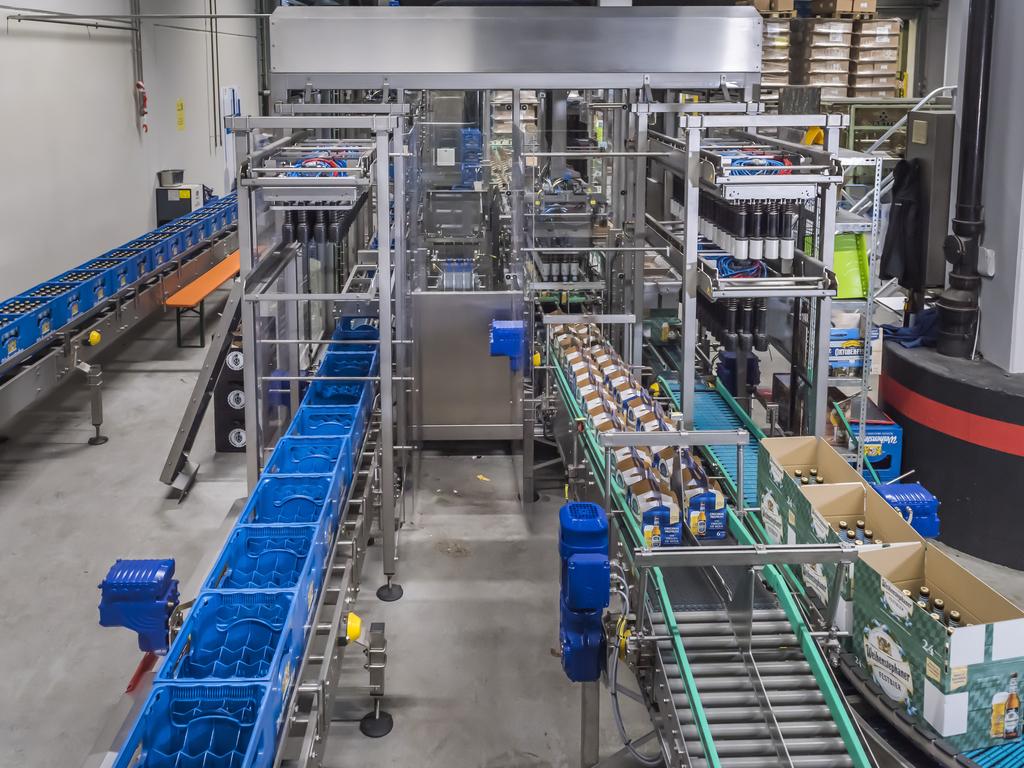 The repacker module is designed as a portal-type robot with two axes. Central conveyors separate the packing side from the unpacking side.The superb taste of German beers, and most particularly Bavarian beers, is not just popular here in Germany. It is also much in demand on an international scale. This is an aspect that demands special attention due to the non-uniform packs and bottle types.
The problem: substantial logistics skills are required when a world-renowned company like the Bavarian State Brewery Weihenstephan wants to handle export shipments. This is why this task was outsourced to an external service provider for a long time. However, with increasing sales and the popularity of Bavarian beers such activities are bound to be limited.
The solution: A fully automatic repacking plant from the BMS Maschinenfabrik product range. For optimised, efficient processes and smooth logistics. From the individual pack up to packaging for the respective market.
Characteristic features of the new repacking plant include:
• 1:1 repacking of 60 or 72 bottles per lift (calculated output per hour: 20,000 bottles (20-bottle crate) or 22,000 bottles (24-bottle crate)
• Operation of the plant in two-shift operation with two workers on each shift and one forklift driver
• Positive planning feature: swift integration of a combined basket and cluster machine is possible
From a Benedictine monastery to a world-renowned brewery – the history of Weihenstephan beer
People have known that Bavarian beer is special for over 500 years. The Benedictine monastery Weihenstephan, which has had a licence to brew and sell beer in the town of Freising since 1040, is considered an authority for an entire brewing industry. Even some 200 years before the actual statute there was a hop garden near the monastery. If a brewing tradition exists, then here!
Some key data on the Bavarian State Brewery Weihenstephan:
• The Landwirtschaftlichen Zentralschule (Central School of Agriculture) moves to the Weihenstephan Hill (1852)
• Brewing Academy (1895)
• University for Agriculture and Brewing (1919)
• Today: Part of the Technical University of Munich (TUM) and, in combination with the Weihenstephan-Triesdorf University of Applied Sciences (HS Weihenstephan-Triesdorf), a world-renowned site for brewing technology
What is special about it: teaching and brewing have always been linked together in Weihenstephan. This is where, in addition to research, a lively exchange of ideas is always going on in the Weihenstephan Bräustüberl. Especially North Americans and Asians have come to love exported Weihenstephan beer. This, however, gives rise to specific problems in the handling of packs and bottles, and these are the problems that have to be addressed.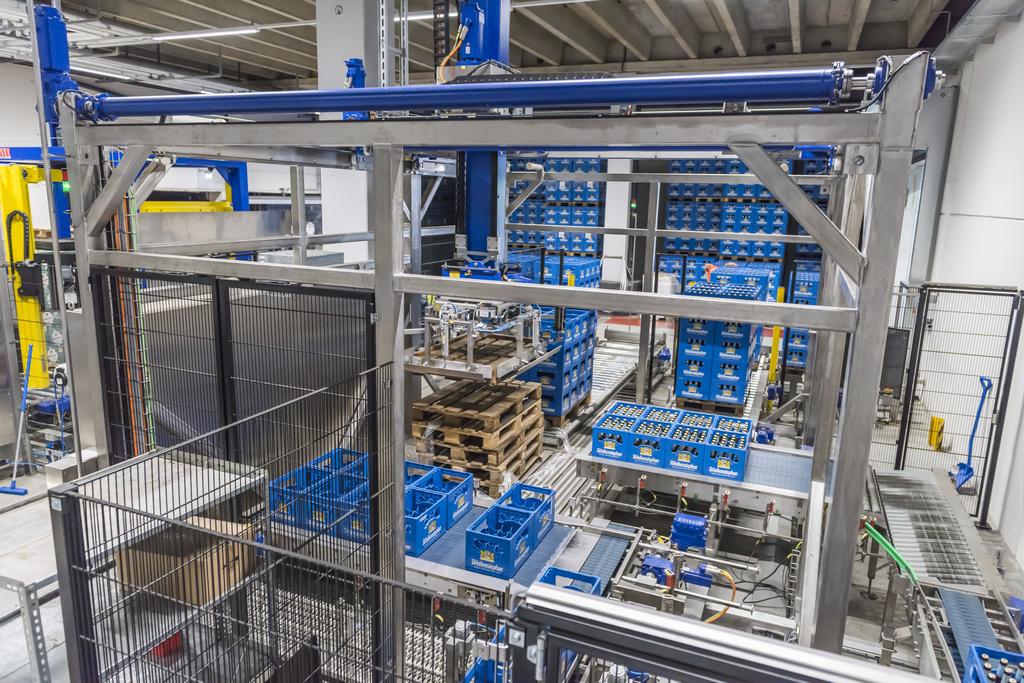 The prepared shipping packages are palletised by a combined loader and unloader. This portal-type palletiser also takes over the pallet handling.
Weihenstephan beer export overseas: repacking from the standard packaging to export packaging is required
Efficient logistics processes are paramount. This is because a diverse market presence also involves substantial expense and organisational effort. The Bavarian State Brewery Weihenstephan knows this and for many years the handling from standard packs to an export-friendly format was taken care of by a service provider. This required coordination and also delayed procedures which ultimately had a negative economic impact.
Aim of the Bavarian State Brewery: A modular-designed plant that is simple to operate and enables a smooth flow of day-to-day operations. After dismissing many plants that were far to complex, the decision went in favour of a solution from BMS. The decisive impetus for this choice came from visits to breweries that were already using components from our company.
Initial planning stages in July 2017: BMS delivers repacking plant to the Bavarian State Brewery Weihenstephan
We have always attached utmost importance to a compact, stable and torsion-free stainless steel structure. The repackers of BMS are of a modular design and can therefore be retrofitted at any time. They grow as the need demands. Freely programmable packing cams and cycle times enable the perfect handling of each product type. These are aspects that ultimately convinced Weihenstephan as well.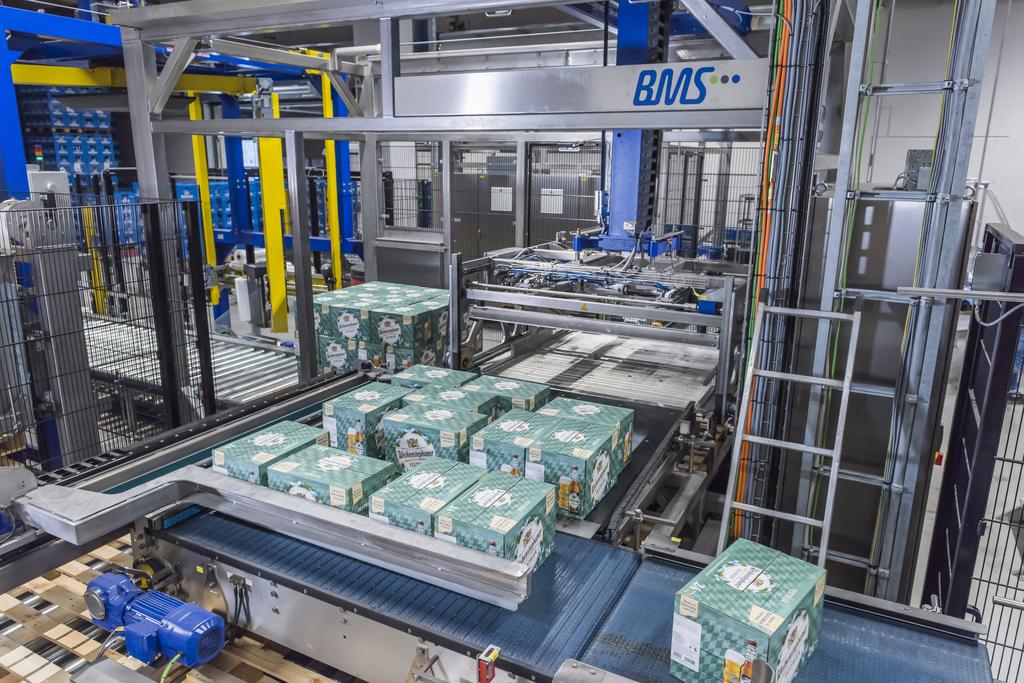 The repacking plant achieves an output of 20,000 bottles per hour with the 20-bottle crates and 22,000 bottles per hour with the 24-bottle crate. With the programme 20-bottle crate to 12-bottle crate 10,000 bottles are handled per hour.
Here an outline on how the project took shape as well as some other major aspects:
• Preparation of first rough sketches (July 2017)
• Joint evaluation of options and project specifications - Optimisation of the plant
• Goal: Placement of the repacking plant in the existing building (at that time used for full goods storage)
• Installation of the repacking plant in the new logistics centre of the Bavarian State Brewery
• Award of contract for the project to BMS (October 2017)
• Relocation of the new logistics centre and commencement of the repacker installation (January 2019)
• Acceptance of the plant (March 2019)
A particular challenge: Besides having to first await the commissioning of the new logistics centre, the customer's specifications regarding the repacking capacity had to be coordinated with the spatial conditions. The area was limited and divided several times by a large number of columns, making the planning very complicated. The 30 or more plans that were required before the final layout was in place underscore this complexity.
BMS as general contractor for the new installation of the Weihenstephan repacking plant
The State Brewery placed an order with us to develop a complete plant. In this process we integrated existing plants, adapted our own BMS modules and incorporated other machines into the control system. This included conveyors, loaders and unloaders as well as the most powerful Unimodul from the BMS range.
Core components of this order are as follows:
• Portal-type robot with two axes
• Unimodul as multifunctional solution (packing, unpacking, repacking) as a portal-type robot
• System supply via several streams, including full goods, empty crates, carton infeed, carton discharge as well as basket discharge
• Centrally arranged conveyors separating the packing and unpacking jobs
• Three packing heads = axes which assume different tasks for the purpose of buffering different infeed and discharge streams
• Integration of an additional bottle table for the infeed of the 20-bottle crates
As you can see: cartons as well as baskets are filled, packed in a carton and distributed accordingly. The plant concept also included a pack divider for the two-track infeed control of the baskets. Palletising takes place via the integrated loader and unloader of type "Unipal 106".
Want to see the repacking plant live in action? Click here for the video: repacking plant Weihenstephan
Published in: Getränke! Technologie & Marketing / November 2019